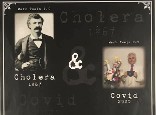 Cholera & Covid by Paul Mast, Wednesday, Sept. 15, 7:00 pm.
Mamie Warren. Cost $10 for adults, Seniors & Students $5
GIANT INDOOR YARD SALE
Saturday, Sept. 25, 2021
7:00 - 1:00
We are now accepting donations and are looking for the following item: household furniture, tools, garden tools & accessories, infant and toddler clothes and toys, sporting goods, designer purses and bags, etc.
We are happy to pick up your items!